This is funny story. I was having a relaxing smoke in the office talking to other smokers when suddenly somebody brought an idea of limiting our smokings. Immediately after I had this feeling, like in the old polish cartoon when the ball bounces on little kid head to finally bring him an excellent idea. Mine was about the smoking counter. But not ordinary one, the one which can show you how much did you smoked!
Imagine multiplying this figure by amount of people smoking in the same smoking room and you get a figure! That is a motivation to quit!
After short thinking I knew how should it work and ask my friend Bart to design a small microprocessor circuit to count how many time we opened the door to smoking room and then simply multiply by the average price of one cigarette :-)
Bart did his job very well! He designed the chip, software and display management unit. I created the cover and connected all those things together!
And here we go: Our cigarette counter is working!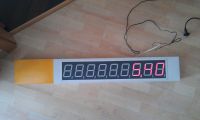 This amazing machine counts up to 1.000.000,00 PLN :-)
We'll see how quick we reach this enormous figure!