That was a great exhibition! I would like to write about live in Paris but first of all let me share with you my impressions about the exhibition I found when I was looking for some nice place for lunch ;-) So, I was just walking around the 4th district to discover some new steak restaurant when I found this place!
At the top of the entrance there was a big sign says the
its for free!
Its something for me, I thought ;-) and with pleasure entered inside. I was completely suprised about what I saw inside. A lot of independent art, a lot of lightings, sculputers made in metal or other weird things made from old rubbish things like motor shock-absorbers ;-)
Wanna see?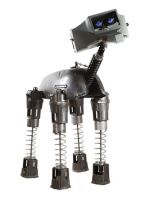 Just visit
http://saloncourtcircuit.com/
A few examples below:
http://www.thierryderoche.com
- a guy who is making a robots ;-)
Brilliant!!!
http://keaton.phpnet.org/brian/site.html
- great lamps & lightening
http://axtom.modwest.com/heox/home.html
- another lamps.
Enyoj it! C U Later!